Few topics give rise to such emotional storms as breast-feeding. Matters that are vital for the entire globe are peanuts compared with the question: Should the mother breast- or bottle-feed the baby? Should she do it in the open or only in private? Why this commotion? It is true that mother's milk contains ingredients that are important for the young baby's development. On the other hand, there are very good substitute products. I claim no competence concerning the biological aspects, but I agree with some Swedish experts (Hedberg Nyqvist et al.): "Claiming that infant formula is an equally good alternative is not scientifically correct. However, it is the best alternative for a mother who is not breast-feeding." One reason why breast-feeding is not instituted may be the mother's emotional attitude to it. Why are mothers' attitudes so divergent and how should we relate to these differences?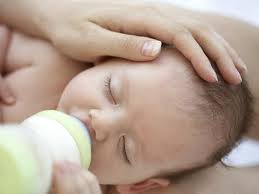 Women I've met over the years say: "Breast-feeding is cosy" or "At the delivery ward they pushed the nipple into my baby's mouth". "I don't particularly like breast-feeding but I do it for his sake" or "These  fascist midwives brainwash you that breast-feeding is a matter of life or death for the baby". Some women have said: "It's embarrassing, but while I'm breast-feeding I feel sensual pleasure". Cosy, terrible, indifferent, fascist, pleasant: Why do women experience it so differently? I assume that on an an unconscious level, we link breast-feeding with sensuality and sexuality. The psychoanalytic concept infantile sexuality applies here.
INFANTILE SEXUALITY
A U.S. professor of gynecology, Susan Kellogg-Spadt, states that breast-feeding may diminish a woman's sexual desire. On the other hand: "Some women note that their bodies seem to respond in a sexual way to breastfeeding and they feel somewhat aroused. It is important to understand that this may be due to hormones released as a result of nipple stimulation and that the response is completely within the realm of normal." Evidently, biological explanations, for example, about the impact of the hormones oxytocin and prolactin, can be applied both to decreased and increased sexual desire. One gets the impression that Susan K-S wants to calm her readers that the experience of desire is normal – a standpoint that I share with her completely. To understand the emotional charge of this topic, we need to go to the psychoanalytic theory of human development.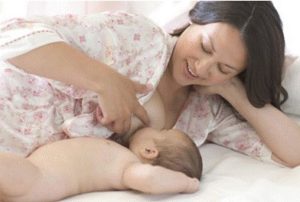 Sigmund Freud listened when his adult patients linked their present emotional suffering to their childhood experiences. Whether the latter had been pleasant or not, they were always embarrassing, then and today. The patient could now relate the disgrace and unpleasure in being drawn into another person's adult sexuality, for example, that of an older relative. But, they could also slowly tell him, in shame and embarrassment, about the lust they had been feeling. Freud concluded that the child is born with a sexual desire or drive, which at once joins efforts or links with the instinct for survival. The child thus comes to experience the breast both as a place for nourishment and for pleasure. He was uncertain: Had his patients actually been seduced during childhood? Or did their accounts relate to phantasies only? In contrast, he never doubted that the child is born, both with the instinct of survival and to get tenderness (Zärtlichkeit, a concept akin to the modern term attachment) and the drive of sexuality. And, the breast becomes a nodal point for all these strivings.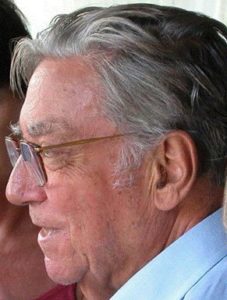 Freud's theory certainly caused commotion and outrage. Many analysts have become prone to diminsh the impact of this part of Freudian thinking. The question is: If there is such a thing as infantile sexuality, how can we grasp its origin and its role? The French analyst Jean Laplanche linked Freud's theories with the findings of the attachment researchers. His idea was that we parents emit "enigmatic messages" to our children. A mother who feels it's cosy or pleasant to breast-feed perhaps sends signals that her baby – and she as well – only partially understand. The child perceives a caress, an odour, a glance, signals that come with mother's milk – literally and figuratively. The child can only vaguely grasp the deep sources of mother's pleasure. A mother who feels "it's cosy to breast-feed" perhaps defends against linking this sensation with her adult sexuality. She's ashamed or feels guilty, quite unnecessarily, according to Freud.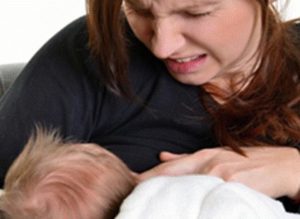 Other mothers feel differently, for example, that they are coerced by "fascists" or "society" to breast-feed. Understandably, they feel humiliated and threatened in their integrity. If such a woman breast-feeds anyhow, it is easy to imagine that the interaction between her and the child feels unpleasant, weird and "unmusical". To advise her to breast-feed will probably increase her sense of intrusion and humiliation. On the other hand, if a mother who feels pleasure in brest-feeding we should perhaps remind her of Freud's words that she needs to have no remorse at all, since she is "teaching the child to love".
So, why is the idea about infantile sexuality so provocative? Perhaps because one confuses it with pedophilia. But such a person is somebody who is unhappy and often traumatized, and whose adult sexuality never developed. Instead, he is a slave to his infantile sexuality and feels forced to sexual intercourse with persons whom he regards is on the same developmental level as himself; that is, children. Another answer to the question is that to uphold the idea of infantile sexuality implies to degrade motherhood into a perversion. But think of it; we caress our babies, kiss them, sniff and look for hours at them. No one would call such behaviour dirty. It would be quite another matter if an adult were to feel aroused in an adult way toward a baby. Then, the alarm-bells certainly would ring. I am also sceptical to young children being drawn into adult sexuality via pop videos and ads, because it may disrupt the development of their cognitive and practical skills, as well of their calm an curiosity about age-adequate interests. But when it comes to breast-feeding and the storms encircling it, the following caption summarizes my position quite succinctly: "Many women feel sexually aroused while breastfeeding. So what?"
BREAST-FEEDING AND PSYCHOTHERAPY
What do I tell mothers at the CHC, who tell me that they don't want to breast-feed? The important thing is not to push my own position onto them. Instead, the mother and I investigate what this issue means to her personally. Perhaps, she indicates clearly that breast-feeding is unpleasant to her. If she, neverhtless, continues with it we talk about why she does something against her will and conviction. If she, on the other hand, expresses that she wants to understand her discomfort, then we investigate that aspect. One's attitude to breast-feeding often seem linked with that to intimacy. Therefore, it is inappropriate to coerce her into something that she does not want to do. In therapy it may happen, or may not happen, that mother changes her negative attitude to breast-feeding and starts relishing it. It may also happen that a mother has been breast-feeding for months out of sheer duty but with very negative feelings. In such a case, she perhaps chooses to terminate breast-feeding.
LENGTHY BREAST-FEEDING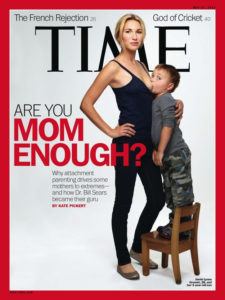 Sometimes, the reverse question is asked: "For how long should I breast-feed?" Today, there is an opinion that the longer you breast-feed, the healthier for the child's attachment and safety. Once again, I claim no medical expertise on this question, but as a psychoanalyst I doubt such statements. It is true that a little baby needs to be close to mother's body via the breast, the bottle, or skin-to-skin contact. The latter two are, needless to say, good and enjoyable options for the father as well. Both parents also provide proximity when playing, changing diapers, tucking the baby in for the night, etc.
But, little by little the child needs to extend its horizon. As John Bowlby expressed it, attachment impies the use of a preferred person as a secure base from which to explore and as a haven of safety or comfort when needed. First the base, then the exploration and, in the background, the haven to return to – that's the idea of attachment. If you look at a baby only a few months old, you'll see how eagerly he's checking around, away from the mother and outwards to the wide world.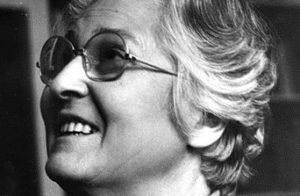 The French analyst Françoise Dolto coined the concept "oral castration". The term may sound barbarous. However, her idea was that at first, the baby needs to bask in the illusion of owning mother's breast, an idea that Winnicott also defended. Then, the baby needs to learn that this is not the truth about the world. Instead, s/he must learn to express what he wants, to stand that he can't get everything he wishes and, last but not least, to do something constructive of his frustration. An example: a baby is whining, he has been fed, mother played with him but now she needs to cook the family's evening meal. He sulks, whines but then starts fingering his lip and makes a funny noise. Such a tiny incident can be viewed as part of the oral castration. One condition, though: all this has to take place within a loving relationship. The baby needs to grasp that mother wishes him well when she does not want to constantly offer him the breast.
When I meet a mother who declares, "I still breast-feed my three-year-old. He thinks it's so cosy", I tend to cautiously investigate: Is it really his attitude or his mother's? Is there any special circumstance in his life or health condition that motivates lenghty breast-feeding? Or, is it rather the mother who places her own ideals in the baby's mind? Evidently, these are sensitive issues that must be approached with empathy and tact.
To summarize: I think it is the link between our attitudes to breast-feeding and intimacy that explains why this topic is so "hot". I guess the heat will remain forever. But, the more openly we can discuss it, the better.