BOOKS
DIALOGUES WITH CHILDREN AND ADOLESCENTS
You have questions about your child or grandchild. Or you are young and wonder about other people of your own age. Or, you're working in a pre-school or school, or in a hospital. The book conveys the thoughts and feelings of youngsters, and why they get affected by things we, as adults, sometimes think are trifles. It uses imaginary letters between a child and a therapist. The language is thus simple and without any professional terms. Only the very last chapter contains more theoretical discussions about the content of the correspondences. Therefore, the book is also used in training programmes for therapists.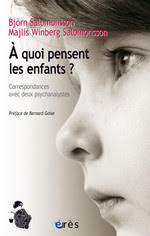 This is a French translation of the book "Dialogues…"
Merci donc [à Björn et Majlis Salomonsson] de nous aider, nous adultes, professionnels ou non de l'enfance, à entrer dans cette culture et à nous y retrouver. Cela est salutaire pour chacun d'entre nous, mais salutaire aussi pour les enfants que nous croisons, les nôtres ou ceux que nous avons à aider ou à soigner, car tout enfant a besoin d'être compris même s'il a peur d'être deviné, et c'est tout le tact de Björn et de Majlis qui leur permet de comprendre sans être intrusifs.
Bernard Golse, Chef de service de psychiatrie infantile à l'Hôpital Necker-Enfants malades (Paris)
Professeur de psychiatrie de l'enfant et de l'adolescent à l'université Paris Descartes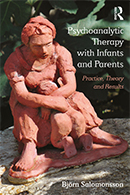 PSYCHOANALYTIC THERAPY WITH INFANTS AND PARENTS
This book provides a guide to clinical psychoanalytic work with distressed babies and unhappy parents, a group so often in need of urgent help. Although psychoanalytic work is primarily verbal, and infants have limited language, this form of treatment is receiving increased attention. The book explores how such work can be possible and benefit infants, how to work with the parents (especially the mother), and how major psychoanalytic concepts can be worked with and understood in these therapies. The book shows how we need these concepts to better understand, not only "baby worries", but also adult clients' non-verbal communications and interactions. Throughout, I use extensive practice-based examples and also refer to my research on the efficacy of this practice.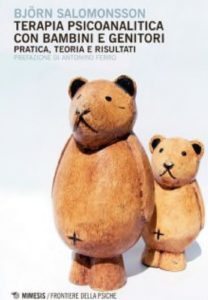 TERAPIA PSICOANALITICA CON BAMBINI E GENITORI
An Italian translation of the book.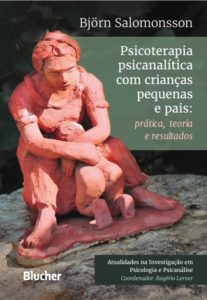 PSICOTERAPIA PSICANALÍTICA COM CRIANÇAS PEQUENAS E PAIS
A Portuguese translation.
PAPERS TO DOWNLOAD FROM THIS WEB SITE
MOTHER-INFANT WORK AND ITS IMPACTS ON PSYCHOANALYSIS WITH ADULTS
This paper was published in the Scandinavian Psychoanalytic Review (2009). Here is a free download: mother_infant_work.
BABY WORRIES – UNE ÉTUDE RANDOMISÉE SUR LES TRAITEMENTS PSYCHOANALYTIQUES MÈRE-NOURRISSON
An article from "Le Carnet Psy" in French. Reports on the research project. Free download here.
[PSYCHOANALYTIC CONCEPTUALIZATIONS OF THE INTERNAL OBJECT IN AN ADHD CHILD
This paper describes the so-called internal object in an ADHD child. This download is free.
LIST OF PUBLICATIONS